Maintaining Macau's pandemic management measures will underpin its ongoing economic stability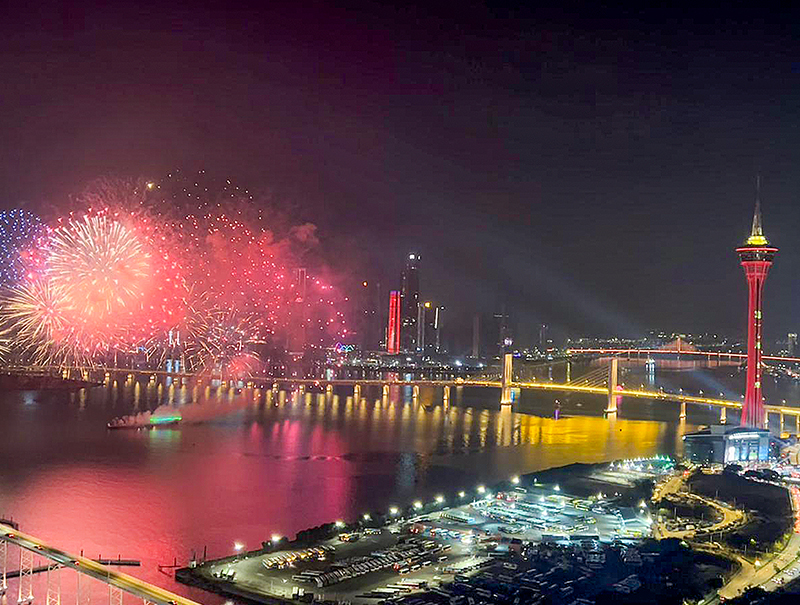 During the recent lunar new year period, the Macao Government Tourism Office (MGTO) held a series of Chinese New Year activities, such as parades and fireworks activities, as part of its drive to continue promoting Macau as a tourist destination, cooperate with local stakeholders in the tourism industry, and expand the sources of inbound visitors.
According to the MGTO, the number of travellers visiting Macau reached 33,208 on 25 February, making that day the fourth-biggest by single-day arrivals so far this year. Since 30,739 visitors were recorded on 13 January, visitation levels have recovered to around 30,000 daily. From 18-24 February, a total of 171,288 travellers visited Macau, with the average daily visitor count being 24,470 – an increase of 9.2% compared with January's average of 22,401.
This year, the MGTO will continue to cooperate with airlines, e-commerce platforms and online travel agencies, taking a phased approach to facilitating discounts on airline tickets and hotel accommodation for mainland Chinese tourists throughout the year under the new slogan "Experience Macau • Enjoy Your Benefits". The agency hopes to attract more tourists to Macau through the preferential programmes set up to leverage this slogan, extend tourists' stays in Macau, stimulate consumption, and promote the recovery of the territory's tourism-driven economy.
As the only part of China exempt from quarantine requirements, Macau has uniquely attractive advantages in terms of the leisure travel, shopping and entertainment opportunities it offers. In some provinces and cities on the Chinese mainland, the pandemic has made a resurgence, and visitors arriving at the Zhuhai-Macao land border must still show proof of a negative Covid test performed within the previous 48 hours. The number of daily border crossings from the Chinese mainland at the Macau-Zhuhai frontier is capped at 30,000 amid an increased willingness among mainland Chinese tourists to travel abroad.
Compared with other jurisdictions in the region, Macau remains relatively safe and very liveable. The real estate market in Macau has always been solid, and since the pandemic began, housing prices have changed little. Due to rigid demand in the market – especially among first-time buyers, young people and prospective buyers looking simply to move – most property owners are waiting for the pandemic to subside before offering their properties for sale, so Covid-related bargains will remain in short supply.
During this period, Macau should maintain its pandemic management measures. Unnecessary travel to high-risk areas and related flows of people should be curtailed. People who travel frequently between Zhuhai and Macau, for instance, should maintain a personal policy that restricts them to point-to-point activity, travelling between their workplaces and places of residence. People should take adequate safety precautions when using public transport, continue using effective personal protection measures such as masks and good hygiene practices, maintain social distancing, avoid participating in group activities, and ensure they and their families get fully vaccinated.
By working together, Macau's residents can ensure the health and safety of their city is protected, enabling the territory as a whole to better weather the pandemic.